Company Info
Professional web design allows clients to effectively represent their business online, build their brand and maximize the potential for new and repeat visits. We design websites that are innovative and visually impressive. Our team of web designers creates websites that will stand out from your competitors.
Content Management
Regular maintenance and monitoring is ensured by regularly updating information on promotions, events and news. Pages are often produced, re-structured, edited and re-written. We are committed to making client websites more user-friendly and managing the information to polish the content of the websites.
E-Commerce
Development of online solutions is provided for almost any application to increase functionality of the website. The company specialties include content management systems, product databases, online transaction payment systems, e-commerce, online booking, blogware and e-newsletters.
Internet Marketing
Search engine optimization and the structuring of pages by positioning keywords in effective places. We offer customized e-marketing campaigns to improve your Internet presence by maintaining targeted traffic, improving conversion rates and sales overall.
Create your vision. Communicate your message. Build an experience.
Meet our Team
Ron Onyshchenko
InfoEmpire CEO
Natasha
General Accountant
Natasha is a motivated and skilled accountant with established knowledge and trained eye for preparing financial statements. She is the organizational voice of our company.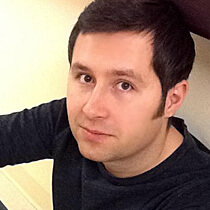 Andy
Web Designer
Andy's eye for clean, sharp and professional layouts comes through in his work. With a degree in Graphic Design and over 17 years of experience in web design, Andy is an expert in both web and print design.
Garnet
PHP/MySQL Developer
Garnet is a lifelong programmer, developing his first website at 9 years old. He dreams in code and thrives on crafting complex functionality on the web.
Cassie
Web Developer
Artem
Web Developer
Victor
Marketing & Design